When we talk about Cricket, especially in India, is all about the craziness, passion for Cricket and huge number of fans are gathering for celebrating Cricket as a festival. But, managing such a huge crowd is the biggest challenge for the stadium management department. Most of the people come to watch a Cricket match for the first time in their lives, do not even know how to reach to their seats. Thus, they are in requirement of getting pleasant experience of the game and need a better guiding system.
Stadium Experience App is mainly useful for the people who come to watch the game of Cricket in their nearby stadium and getting everything in a hassle-free manner starting from setting a vehicle parking pin till enjoying the game by becoming Fan of the Match.
My role was to undertake all the phases of Design Thinking process in a non-linear manner to carry out the design of Stadium Experience App.
Starting with empathizing, I took the stadium management team under consideration, understood what actually they face when a Cricket match gets hosted on a Stadium and how they deal with such a massive crowd. After that, I've interviewed people who visited to the stadium more than once and also the ones who never visited yet.
When conducting interviews, I've found out that people are actually telling a story about their experience at the stadium and how they manage such a huge crowd efficiently in terms of purchasing Food, Beverages and Merchandise on the available local stalls.
The following factors are the main problems while visiting Cricket stadium in India.
People try to find out the parking space and locate their seats.
People try to find out their parked vehicle after match is over.
Waiting in a huge line on food and merchandise stalls in a match break which is tedious and missing out on the action going on.
Instead of giving a just another app, our team's approach was to create a story telling experience with this app. We considered the empathizing stage where customers are always trying to embed their experience in to a story that led us to make such solution that will back their experience just like, it's another story.
Thus, we initially started with Mind Mapping of a user, what he/she can actually experience while visiting any stadium, even for the first time and what their thought process will be. We tried to build various mental models that helped us in providing better solution for the users.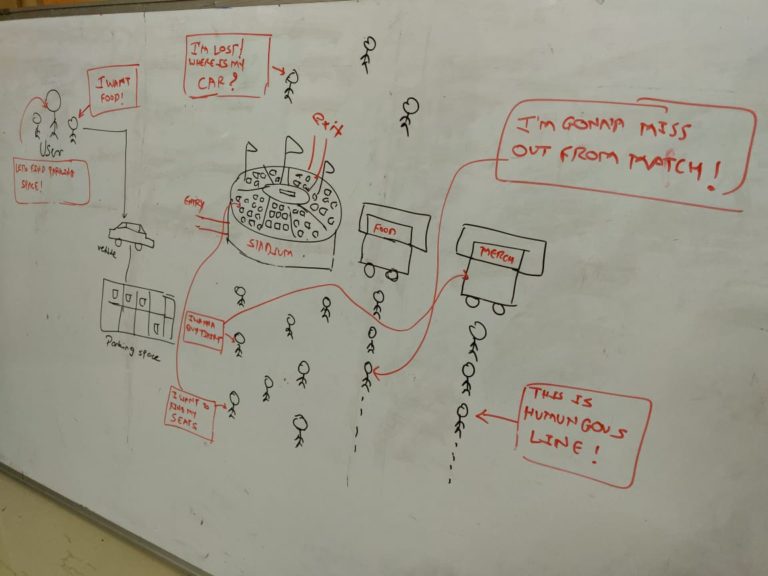 We then, proceed ahead with providing the overall experience of a stadium through our solution i.e. Stadium Experience app. This app would cover all the possible aspects of a user and tries to embody them into the one solution.
We performed some Brainstorming sessions within a team to finalize solutions and also collected some of the better future solutions that we might introduce in future app releases.
Even after this, we followed the 5-stage design thinking process in a non-linear manner in order to identify possible better outcomes for this application.
We came up with almost 20+ solutions in order to provide a better one for making this app. We then, tested these number of possible solutions with some users who never visited a stadium and also with the users who already visited and experienced the stadium's scenarios.
Then, we inquired out test groups to point out their best possible solution and most of the users were satisfied with the one solution in which we gave a user number of possible options from where they can map their journey starting from reaching to the stadium, parking vehicles towards exiting from a stadium with a good, hassle-free experience.
Through Stadium Experience, we provided everything you can do at the stadium on a single app. Some of the main solutions we provided based on the pain areas are,
Locating your vehicle by setting up a location pin after parking.
Locating your seats and navigating through particular gates, sections/bays, stands in the stadium by mapping out the entire blueprint of a stadium as a prerequisite.
Order food and merchandise from app and get them at your seats.
Join Live contests and become fan of the match as a result of enhancing overall stadium experience and keeping audience engaged on the app.
Flowing all the things like a story or like a user journey where there are several checkpoints from where a user can pick up and join the journey again.
Provided ad targetization for the businesses to make their offers and generate ROI from it.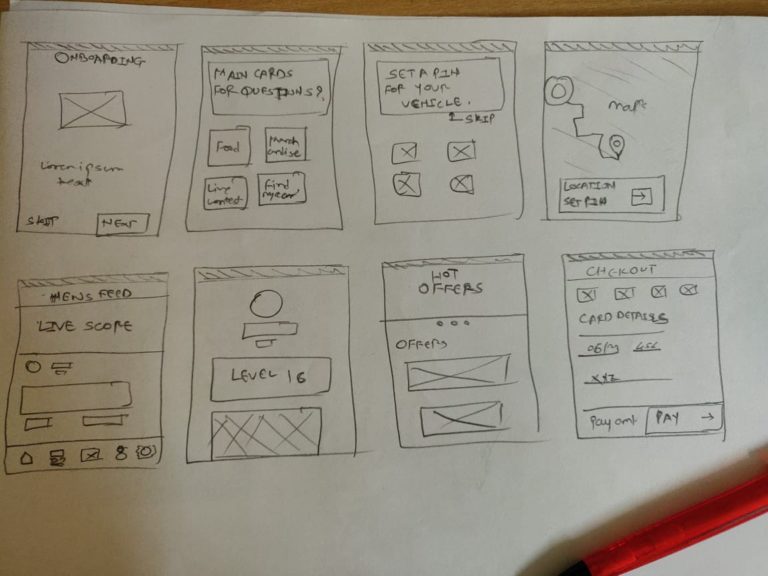 Giving a pleasant, hassle-free and awesome experience of watching a Cricket match at the stadium was the primary challenge. I found this overcoming by giving customers a Stadium Experience app. The non-linear design thinking process helped me and my team taking this journey together with the users, identifying their pain areas, their primary needs and also finding various possible solutions to overcome the challenges throughout these design thinking phases.
Currently, I'm improving the social experience of the app where user can follow other users on the app and also featuring the Chat option between the Sponsors and the users for giving great offers to the users and influencing their purchasing decisions on the app.
Thank you for giving your time to read this. Much appreciated. Do leave any feedback you feel is necessary. There's no End of Learning for me.