I would love to tell you a story about myself and the profession I'm currently in. I am a User Experience (UX) designer from Pune, India. I've been in this profession since last 3.5+ years. I'm an UX enthusiast, continuing my UX journey and I hope I'd achieve to become a Chief Experience Officer (CXO) someday. So, let's start by getting to know me.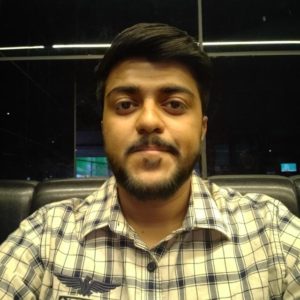 "We Rise by Lifting Others!"
I'm an IDF certified UX designer.
Working on designs and user flows of various parts of the ERP solutions provided by Avalara. 
UX Designer & Project Manager
The Data Duck | 1.5 Years
I've successfully completed and delivered 5 projects till now.
I mainly work on providing solutions on web and mobile app designs by applying UX methodologies and strategies.
I provide end-to-end UX solutions from empathizing to final prototype. I also do rapid prototyping to test solutions for some of the projects.
I'm a proud Ex-entrepreneur who worked on 20+ mobile and website design and development services and also handled the UX of projects.
My team and I successfully deployed 2 products (android apps) and got recognized in Startup India initiative.
I've also handled the marketing and sales for my company.
Education
is what remains.
Bachelors in Computer Engineering
Sinhgad Institutes, Pune | Aggregate: 70.77%
Diploma in Computer Engineering
MIT Polytechnic, Pune | Aggregate: 80.06%
M. S. S. Highschool, Pune | Aggregate: 76.15%
I personally conducted Six workshops based on Arduino, Android, Interfacing, Embedded Systems, Internet of Things (IoT), Autonomous Robotics and Embedded Systems.
I was a Team Leader for National Level Robocon – 2015 team of Sinhgad Institutes, Pune. My team and I represented our institute for the first time ever in such big event.
I got selected as One of the Top – 100 Innovators from all over India for my Engineering Major project at INK – 2013 in association with TED Talks.
I also conducted Faculty Development Programs (FDP) and Student Training Programs (STP) on Advanced Java, IoT, Embedded Systems at Sinhgad Institutes, Pune.
I'm good at doing,
UX Research – Personas, Empathy Maps, Storyboards
Customer Journey Maps, User Flows, Sitemaps
Information Architecture, App flows, Wireframes & Prototypes (from Low-Fidelity to High-Fidelity)
Interactive & Rapid Prototyping
Usability Reports & Analytics
 I use,
Pen, Pencil, Paper & Whiteboards
Post-its & Colorful Sketchpens
Adobe XD
Adobe Illustrator
Bootstrap 3 & 4
Angular 2+ 
Ionic v3
HTML5
CSS3 & CSS Preprocessors (SCSS, SASS)
Javascript (ES6)
Travelling makes me Happy! 😀
I love Robots.
Sketching & Painting
Computer Games
Acquiring latest tech knowledge
Reading Books (Financial Genre)
And, That's It! Thanks for Scrolling!